Jamie Danneberg, RDN
Registered Dietitian and Caregiver
Video Topic: The Evolution of Caregiving Through the Lens of a Non-Parent Caregiver
In this webinar,  CJ, from
thirdwheelED
, shares her personal experience as a non-traditional caregiver, and provides insight, relatability, resources, and hope to other non-parent supporter's going through the difficult process of watching their loved ones suffer from an eating disorder. CJ discusses the nuances specific to being a non-parent caregiver, and her experiences through the evolution of what she calls, the "stages of caregiving". Through this perspective she offers non-parent caregivers practical guidance as to what they can do for themselves, as well as their loved ones in recovery, as they navigate the path towards recovery. Ideal for careers who support another adult.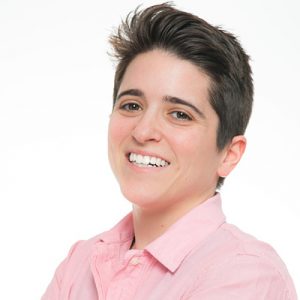 Jamie Dannenberg aka CJ, of thirdwheelED, is a registered dietitian and caregiver to her partner, Jamie Bushell aka OJ (pronouns they/them). CJ was ironically finishing her last year of graduate school to become a registered dietitian when OJ was first hospitalized for their eating disorder and co-occurring mental illnesses.  CJ's background, both personally and professionally, offers a highly valuable and unique insight into what it is like to navigate through our seemingly broken mental health system to get the care that a loved one needs. She understands the unique challenges that non-parent caregivers and marginalized communities, like queer folx, face while helping a loved one recover from an eating disorder.  Find Jamie at: Facebook: @thirdwheelED and Twitter: @thirdwheelED as well as Instagram: @thirdwheelED
CJ's Talk on NEDA's Family Panel 2016: https://youtu.be/nUMuYpkmnQo
HELPING HANDS SUMMIT EBOOK
Purchase this video series and receive The Helping Hands E-book: full of over 30 pages of checklists, tools and resources.
Video Series
Helping Hands