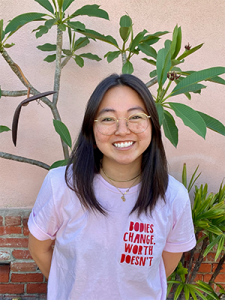 Katelynn is so excited to be joining the EDRD Pro team! She is a registered dietitian with experience working with adolescents in eating disorder recovery and a pediatric private practice. Katelynn is passionate about providing compassionate care with culturally inclusive lens. Her areas of interest, training, and experience include cultural nutrition and food anthropology, HAES, Intuitive Eating, baby-led weaning, and pediatric nutrition.
Dietetics has not always been a place where Katelynn felt represented, and she aspires to help create spaces and supports for both patients and professionals to be seen. Training that is reflective of the diversity of patient identities and experiences to work in eating disorder recovery is difficult to come by, and it is an aspiration of Katelynn's to change this narrative in the field.
Katelynn loves all things creative and spends her free time learning digital art, interior design, plant care, and experimenting with recipes. She's a big believer in embracing the messy parts and getting comfortable with being bad at things as long as it's fun!