Monica McCollin, MS, CNS, LDN, RYT
Community Health & Activism Online Development Programs Co-Director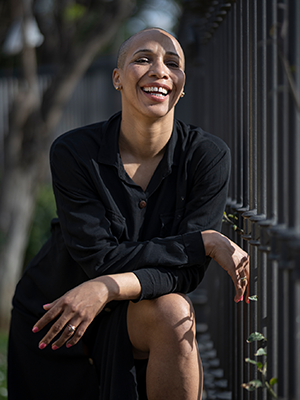 M.S. Herbal Medicine, Maryland University of Integrative Health, 2009
B.A. Psychology, The George Washington University, 2001
Licensed Nutritionist in the State of Pennsylvania Credential ID DN005200
Board Certified Nutrition Specialist
500 hr Registered Yoga Instructor
Monica is thrilled to join the EDRD Pro team as Community Health & Activism Online Development Programs Co-Director.  A self-described eccentric, she is a creative wellness professional who has been empowering clients to overcome emotional challenges and make peace with their bodies since 2006. Working as a wellness practitioner, group trainer, and expert corporate and non-profit consultant, Monica is passionate about sharing her knowledge of medicinal herbs, nutrition, and yoga to design holistic wellness plans for her clients. Her down-to-earth approach to wellness is drawn from over a decade of experience encouraging individuals and communities to make positive lifestyle choices that create more balance and joy in their lives.
Monica is passionate about advocating for food justice among underrepresented communities. Her work with organizations such as Philabundance, the largest food bank in the Delaware Valley, in her hometown of Philadelphia and Greensgrow, a local urban farm, has made her intimately acquainted with the many faces of hunger and the consequences of food insecurity, specifically among people of color.
A retired social butterfly, these days Monica loves to use her powerful people skills to build community and share her gifts and skills with her clients and students. In her private and group practices, she holds space for clients to work through issues of negative self-image and invites them to consider positive ways of achieving goals that support their authentic selves.
Monica now lives in Barcelona, Spain, where she works from her virtual home-based private practice The Momo Method, LLC. In addition to providing customized and compassionate holistic wellness services, she continues to partner with non-profits and businesses, and hosts daily community yoga classes at local studios in Spanish (which she is very proud of). She serves as an adjunct professor at the Maryland University of Integrative Health for a course she co-developed in 2017 for the Master of Science in Herbal Product Design and Manufacturing program.
She is an enthusiast of music, stand-up comedy, literature, fashion, film, and all things outdoors– minus the insects. In her free time, she likes to practice her Spanish, play in the kitchen, harass her husband, and gush over their rescue dog Oki. In no specific order.