Helping Hands Video Series
As a parent, caregiver or a provider to a person with an eating disorder you may feel scared, confused and overwhelmed. Now you can access the hope, skills, and tools you're searching for all in one place, in this event created by experts and experienced caregivers.
EXPERT WEBINARS AND INTERVIEWS

12 expert webinars and interviews about eating disorder treatment and recovery presented by treatment providers – covering various types of eating disorders. All videos are recorded and will be accessible to you at any time after purchasing the video series

7+ HOURS

Over 7 hours of video content providing information that would otherwise cost thousands to pay for individually- all for just $99

POWER ADVICE FOR HEALING AND RECOVERY

Powerful advice for healing and recovery that you won't find collected in one place, anywhere else.

WATCH

You can watch at your own pace when you're ready

THE HELPING HANDS E-BOOK

Download The Helping Hands E-book; Skillset booklet for ED Caregivers: full of over 30 pages of checklists, tools and resources.

OPEN TO EVERYONE

Your loved one may not have an eating disorder diagnosis at this point but you know they're struggling and you need help to support them in recovering their health.
Video Series
Helping Hands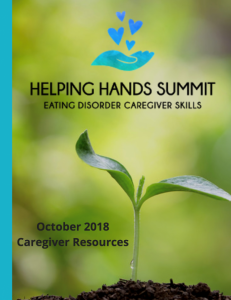 HELPING HANDS SUMMIT EBOOK
Purchase this video series and receive The Helping Hands E-book: full of over 30 pages of checklists, tools and resources.