Session Title: Making the Connection: Acknowledging Differences Can Bring Greater Understanding to our Relationship to Food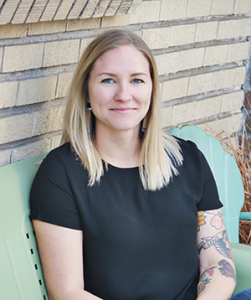 Corrie Van Horne is a Licensed Professional Counselor Candidate and Registered Dietitian in Denver, Colorado. She is the co-founder of Omni Counseling and Nutrition where she and her partner Melissa Preston provide a space that offers inclusive and relationally driven counseling and nutrition that aims to cultivate healing of the whole person.
Corrie received her bachelor's in nutrition from Kansas State University (2008), and her master's in counseling from the University of Colorado, Denver (2017). Corrie provides a fusion of counseling and nutrition in her practice as she works primarily with people with disordered eating, chronic dieting, weight and size oppression, and associated traumas. Her approach is weight inclusive and holds a social justice lens. She works with clients to examine the role stigma and oppression have had in their relationship with food and their body.
In addition to Omni, Corrie strives to be an advocate for social justice, working to dismantle the oppressive systems rampant in our culture. She is a guest speaker at local universities, high schools, and conferences. Corrie also writes for the Omni Counseling and Nutrition blog about topics related to disordered eating, body image, dismantling fat phobia, and the intersections of social justice therein.