Members Events and Webinars Schedule
One of the most popular features of membership is complimentary access to our members-only webinar series.
If you can't attend the live webinar, all replay's are sent out within 1 day and stored for on-demand viewing in our webinar library.
1 CEU for Dietitians for every webinar you attend . Here's what we've got coming up: (scroll down for presentation details and speaker bios)
February 24th, 2018 - 9:00 am PST / 12:00 pm EST
Guiding Your Client from Chaotic to Peaceful Eater: Strategies for Intuitive Eating Counselors
Presented by: Vania Phitidis, Intuitive Eating counselor
Webinar Description
Vania is an experienced Intuitive Eating counselor and has been practicing and helping clients for over 25 years! She is also a popular blogger - check out her work at PeacefulEating.co.uk.
From this presentation participants will be able to:
1. Identify at least 1 mindfulness practice as a tool to use in session with clients
2. Identify at least 2 ways to create space in session that promotes healing toward peaceful eating
3. Identify the most common underlying reasons for disordered eating
4. Know how to conduct a visualization practice for a person who is struggling with disordered eating and why this can evoke healing
Speaker Bio:
Vania Phitidis is on a mission to help women free themselves from the clutches of the insidious cultural mindset that they must be thin in order to be valued, powerful, in a relationship, successful or loved. With a BA in Psychology and an Msc in Education for Sustainability with a focus on behavior changes, Vania is self-employed as an Intuitive Eating Counselor. Additionally, she is a certified MB-EAT (Mindfulness-Based Eating Awareness Training) teacher and a qualified Self Esteem mentor with the More to Life Programme. Over the 25 years she has been involved with More to Life, Vania has had the privilege of coaching hundreds of people to become more of their authentic selves. She is also a member of ASDAH (Association for Size Diversity And Health), TCME (The Center for Mindful Eating) and have a Health At Every Size (HAES), weight inclusive and weight neutral approach to her work. She works with clients to help them make peace with their bodies, with themselves, and with food. As she dispels the myth that to be healthy one must be thin, or of 'normal' weight and that beauty and thinness are important or relevant. On top of all of the above, Vania frequently publishes blogs about Intuitive Eating and making peace with food and body on her blog, Peaceful Eating.
March 27th, 2018 - 11:00 am PST / 2:00 pm EST
Eating Clean in a Dirty, Dirty World: Updates from The International Orthorexia Task Force
Presented by: Jessica Setnick, MS, RD, CEDRD
Webinar Description
Dietitians often encounter individuals seeking health through "clean" or "pure" food and eating. When mixed with a tendency toward perfectionism or anxiety, or when implemented with unrealistic expectations for body shape changes, this desire can morph into fear of food and restrictive eating practices that detract from health and impair functioning.
Dr. Steven Bratman coined the term "orthorexia nervosa" in the 1990's to describe this situation, which he called "an unhealthy obsession with healthy eating." Increasing reports of orthorexia worldwide and recent media attention have led to the formation of an International Orthorexia Nervosa Task Force (ON-TF), a movement to include orthorexia as an official eating disorder diagnosis. Goals include proposing diagnostic criteria for inclusion in the Diagnostic and Statistical Manual of Mental Disorders, increased awareness of orthorexia as a separate condition from anorexia nervosa, and coordinated efforts to determine appropriate treatment interventions.   
 In this Orthorexia Update, eating disorder specialist Jessica Setnick will provide us with the latest information from the ON-TF meeting in Rome and share treatment strategies in use around the world.
Speaker Bio:
Jessica Setnick has one of the most recognizable names in the eating disorders treatment world, thanks to her engaging and charismatic presentation style, her unique point of view, and her genuine ability to connect on a deep level, even from the podium. She has spent her career developing eating disorder treatment protocols in every level of care and shares her wealth of knowledge with health professionals and the public in every possible format, including the Eating Disorders Boot Camp: Training Workshop for Professionals audio course, The Eating Disorders Clinical Pocket Guide, The Academy of Nutrition and Dietetics Pocket Guide to Eating Disorders, as Eating Disorder Editor at Recovery Campus Magazine, in the forthcoming book Managing Eating Disorders on Campus, as a CEDRD Supervisor and mentor to treating professionals around the world, and in her many, many, many presentations. Jessica's mission is to work toward a world where everyone who needs care for eating issues has access to qualified professionals, and no one is turned away due to insurance issues or mistaken stereotypes.
As a member you have on-demand viewing access to our entire webinar library!
July 2017 : The Dangers of Dieting: The Research Review You Need to Know: 
The documented health risks of dieting and diet culture including the psychological and sociological impacts from weight stigma
Problems faced by chronic dieters
The Diet Double Standard
Health at Every Size and Non-Diet approaches, models and research
Answering questions about HAES and weight loss
Speaker bio: Glenys Oyston is one of the most recognizable names online for non-diet expertise. She is a registered dietitian and eating coach based in Los Angeles who helps people recover from toxic diet culture and eating anxiety. You probably know Glenys from her active online presence, writer at www.daretonotdiet.com and co-producer of the podcast Dietitians Unplugged.
As someone who struggled with her weight and feeling out-of-control around food for years, she knows exactly what others are going through and how to get them to food freedom. She coaches people in person in her Los Angeles office and virtually through one-on-one and group coaching programs. This year she launched Dare to Eat, an online program that helps people to learn to eat as much as they want, without guilt, in total freedom.
August 2017, 12:00 PM EST :On Being a Human and a Clinician: Honest and Ethical Management of Your own Body Image Concerns
 Speaker bio: Anna Peabody Sweeney, MS, RDN, LD, CEDRD | @DietitianAnna | WholeLifeRD.com   Anna is a Certified Eating Disorder Registered Dietitian, and a non-diet, Health at Every Size practitioner. She is an expert in providing care for individuals struggling with eating disorders, disordered eating and body image concerns. Over the last decade, she has served in a supervisory role at multiple eating disorder treatment centers and currently holds the position of Director of Nutrition Services for Monte Nido.  Anna is also the owner of Whole Life Nutrition Counseling in Concord, MA, where she works exclusively with clients with eating disorders, disordered eating or an interest in Intuitive Eating. Anna is passionate about nutrition, balance and whole body/mind healing.
September 2017, 12:00 PM PST | 3pm EST:  Eating Disorders during Pregnancy and Postpartum: 5-7% of women suffer from and eating disorder during pregnancy with reports of subclinical disordered eating being as high as 27%. Research shows that the risk for disordered eating and eating disorder relapse increase during the postpartum period. In one study, 93.3% of pregnant women with psychological and behavioral traits associated with eating disorders were not identified by their medical providers. This talk will discuss incidence and risk factors of disordered eating during the perinatal period and the role of the ED RD in screening and treatment
 Speaker bio: Lindsay Stenovec , MS, RDN, CEDRD | Owner at Nutrition Instincts and founder of The Nurtured Mama| @RealisticRD |Lindsay is an expert in the field of nutrition for women, mothers, and families. She owns a private practice in San Diego, CA, called Nutrition Instincts®, where she and her associate dietitian provide nutrition counseling in the areas of eating disorders, intuitive eating, prenatal and postpartum wellness and family feeding coaching. Health at Every Size® is integrated into every area of her and her team's work. In 2015, she founded The Nurtured Mama®, a body positive wellness community for moms and moms-to-be that cultivates body confidence, self-care and a healthy relationship with food, one mama at a time. Lindsay is also an adjunct faculty professor for a local San Diego community college, on the Wellness Advisory Panel for a children's food company and speaks regularly to professionals and parents on the topics of eating disorders, child feeding, maternal self-care, pregnancy and eating disorders and postpartum wellness. Her previous roles that continue to inform her current work include nutrition counseling for gestational diabetes, consulting for Head Start and being the lead dietitian for a PHP and IOP adult and adolescent eating disorder program. Lindsay lives in San Diego with her husband and 2-year old son.
October 3rd 2017 - 11 am PST: Initial Assessment: 5 Keys to a Stellar First Appointment
First impressions aren't everything but they do mean an awful lot! In this information packed session, Marci will outline her top 5 keys to prepare you for a strong initial assessment: organizing your paperwork, setting the stage for a great relationship, key questions and how to ask them, establishing a treatment plan, and setting up the next appointment. Marci will share with you the handouts, techniques, and language she uses in her own practice to help you grow your own style and confidence as a nutrition counselor.
Speaker bio: Marci Evans, RDN, CEDRD-S is a self-proclaimed Food and Body Imager Healer. She has dedicated her career to counseling, supervising, and teaching in the field of eating disorders. She is a Certified Eating Disorder Registered Dietitian and Supervisor, certified Intuitive Eating Counselor and Certified ACSM personal trainer. In addition to her group private practice and three adjunct teaching positions, Marci launched an online eating disorders training for dietitians in 2015 and is co-developing a specialized eating disorder internship at Simmons College. She volunteers for a number of national eating disorder organizations including the iaedp certification committee and is serving as BHN's eating disorder resource professional.  She has spoken locally and nationally at numerous conferences and media outlets. She loves social media so tweet her @marciRD follow her on Facebook, and check out her blog at www.marciRD.com.
November 6th 4pm PST/7pm EST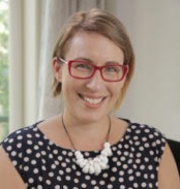 What do iPhones and HAES have in common? The art and science of disseminating weight neutral practices
Presented by Fiona Willer, AvdAPD
Webinar Description
Weight neutral practice approaches which centre size acceptance, like Health at Every Size and the Non-Diet Approach, represent a key innovation in health practice given the ubiquitous backdrop of 'anti-obesity' sentiment in the provision of healthcare today.  The adoption of these approaches so far has been driven by peer-to-peer communication as few professional authorities have yet to openly endorse or encourage weight neutral practice.
The bottom-up nature of this practice adoption has ensured it behaves exactly as predicted by the Theory of Diffusion of Innovations, a foundational social science model which predicts and explains of the spread of innovations via social networks.  This webinar will demonstrate to an audience of health professionals how they can identify in their peers and colleagues the factors which will most compellingly influence their practice preferences, overcome common stumbling blocks, and move them towards a deeper understanding of weight neutral practice approaches.
Speaker Bio
Fiona is an Advanced Accredited Practicing Dietitian and long-term pracademic, combining PhD research, academic teaching in nutrition and dietetics and providing professional development workshops and training for health professionals through her business, Health, Not Diets.  Her academic research areas are dietetic private practice benchmarking, inter-professional learning and the integration of weight neutral lifestyle approaches (including Health at Every Size® and the Non-Diet Approach) into the practice of health professionals, particularly dietitians.
Fiona has close to a decade of experience in academia across multiple universities, has authored two Non-Diet Approach guidebooks for health professionals and developed materials for the private and public sector.  In 2016 she developed the Non-Diet Approach Model, which operationalizes the Health at Every Size® principles for clinical practice.  Fiona currently serves as Vice President International for the Association for Size Diversity and Health, is past-President and current Secretary of HAES Australia Inc and founder of the Society for Australian Independent Dietitian-Nutritionists (AIDNSoc).
Fiona has great enthusiasm for both demolishing weight biased research and overusing food and eating metaphors in everyday life. Email: Fiona@healthnotdiets.com, Twitter: @FionaWiller, Facebook: Health Not Diets
November 28th 9am PST/12pm EST
Integration of Exposure and Response Prevention with Dietary Application in the treatment of eating disorders
Presented by Julia Cassidy, MS, RDN, CEDRD-S
Director of Dietary for the Adolescent Eating Disorder and Resilience RTC
Licensed Body Positive Facilitator
Center For Discovery
We are offering a bonus webinar open to anyone to register (you do not need to be a member) on November 28th at 9 am PST
January 16th 2018 - 5:00 pm PST / 8:00 pm EST
Amenorrhea and infertility - A novel patient centered treatment approach
Presented by Dr. Nicola Rinaldi, author of the book No Period. Now What?
Webinar Description
Even after someone has recovered from an eating disorder, they are often surprised to find there is still work to be done. A symptom that highlights the need for more effort to attain true recovery is the absence of a monthly period (a bleed from birth control doesn't count). Often the desire to restore periods comes when a woman wants to get pregnant, although there are other excellent reasons to continue to work on body image, food fears, and exercise addiction. Our approach centers on understanding where a patient has come from, what her (his) lifestyle is like today, and working on a plan together to ensure adequate food intake and temporary high intensity exercise reduction (along with the much more difficult work on food fears, body dysmorphia, fat phobia, and self-esteem) in order to restore periods and fertility for the short and long term.
Speaker Bio
Dr. Nicola Rinaldi has a PhD in biology from MIT. Since experiencing hypothalamic amenorrhea (missing periods) herself, Dr. Rinaldi has been on a mission to spread awareness of the condition and how to recover. In 2016 she published the book "No Period. Now What?" This book is a comprehensive resource that includes much of the medical and scientific research that underlies our current understanding of the triggers for amenorrhea, what steps to take for recovery, and treatments to use for recovery and pregnancy as needed.
In addition, Dr. Rinaldi performed the largest survey to date of women who likewise experienced amenorrhea, and includes results from the survey answering many of the common questions women have, such as "How long will it take to recover?" "Will I be able to get pregnant?" and "Will I resume cycling after pregnancy?". Finally, the book includes Dr. Rinaldi's own story along with those of hundreds of other women, providing hope and reassurance to women following in their footsteps. Since publishing "No Period. Now What?" Dr.
Rinaldi has been a guest on multiple podcasts, attended the ACSM and SCAN conferences, and presented the winning poster at the 2017 Female Athlete Conference.