Calendar of Events & Webinar Series Schedule
One of the most popular features of membership is complimentary access to our members-only webinar series.
If you can't attend the live webinar, all replay's are sent out within 1 day and stored for on-demand viewing in our webinar library.
1 CEU for Dietitians for every webinar you attend . Here's what we've got coming up: (scroll down for presentation details and speaker bios)
May Member's Round Table: Monthly peer / professional supervision video chat with a guest expert
Round Table Description
All members are welcome to call in and join this monthly video chat. We discuss cases and questions submitted by members each month! 
Speaker Bio:
Sarah Gleason specializes in eating disorder nutrition recovery in the suburbs of St Louis, MO. Since 1999 her focus has been helping clients find peace with food, weight and body image.  During the past 19 years she has worked at residential treatment centers, became the second CEDRD in Missouri, counsulted for Missouri Eating Disorder Council, volunteered for MOEDA by going into classrooms and teaching teens about ED behaviors. Sarah is the outgoing/final DEED director for SCAN and she is the incoming Sponsor Chair for BHN. She currently runs her own private practice. In her spare time she will find literal mountains to climb, trails to hike and adventures to be had.
Deciphering Food Allergies, Intolerances and Sensitivities in Disordered Eating Populations
May 23rd, 2018 - 10:00 am PST / 1:00 pm EST
Presented by: Megan A. Kniskern MS, RD, LD/N, CEDRD-S
Webinar Description
The world we live in offers an endless array of food choices, it is no longer necessary for a particular produce item to be "in season" as we have most food available all year long.  With the endless possibilities, it isn't a surprise that at some point our bodies may have some resistance to too much variety, and in fact REACT!  There are many myths regarding food allergies and it is important to first understand the differences between food allergies and food intolerances.  Both of which are legitimately concerning reactions to food, with varying degrees of severity and potential damage being done to the body.
Learning Objectives:
Define and explain the types of food allergies and food intolerances that impact the body; including physical signs and symptoms.
Understand the many different methods for assessing and testing for food allergies/intolerances; and the varying degrees of accuracy for each method.
The role food aversions can play in the onset of an eating disorder and treatment approaches and dietary interventions best indicated for recovery.
Speaker Bio:
Megan is the Nutrition Director for ViaMar Health Eating Disorders Treatment Center in West Palm Beach and a full-time Lecturer at Arizona State University, teaching graduate and undergraduate management and nutrition courses.  This includes the development of an eating disorders and addictions graduate seminar course; the first of its kind at the University.   Megan is a Certified Eating Disorder Dietitian and Approved Supervisor through IAEDP.  She serves as Chair Elect for the Behavioral Health Nutrition DPG through the Academy of Nutrition and Dietetics and as the Phoenix Ambassador of the International Federation of Eating Disorder Dietitians.  As a Certified yoga instructor for 11 years, Megan combines mindfulness practices and meditation techniques with traditional nutrition models within her professional practice.  Utilizing an "all foods fit" and brain-based nutrition model, Megan's strengths are working with vegans, vegetarians, food allergies, GI issues, substance use disorders, very low body weight, bariatrics and further combinations of complex eating disorder cases; she travels the country presenting and educating on these various topics.
Size Acceptance and Eating Disorders – A Critical, Crucial, Core Conversation
We have opened up this event to non-members due to high demand. Sign up for the the June Webinar with Ragen Chastain now.
then $35 a month thereafter (cancel at anytime)
Webinar Description
If you missed Ragen's keynote talk at the 2018 MEDA conference now is your chance to hear her again! This talk will begin by examining the messages that come to clients (and to all of us) through our culture about beauty, our bodies, and health. We'll discuss the ways that these messages can  affect clients' relationships with their bodies, food, and movement. We'll look at how these messages can perpetuate eating disorders, disrupt recovery efforts, and prevent full recovery. Finally we'll discuss how using a framework of Size Acceptance and Health at Every Size can give us practical, realistic options to help clients repair the damage that these messages have done, and create strategies that will support them in dealing with these messages through their recovery journey and beyond.
Learning Objectives:
Participants will be able to define Size Acceptance and Health at Every Size, understand the differences between the two, and identify myths, misunderstandings, and misapplications of both.
Participants will understand how current cultural messaging around beauty, body size, and health can encourage eating disorders and make recovery impossible.
Participants will understand the ways in which SA and HAES provide a paradigm for personal, public, physical, and mental health that are intersectionally beneficial, and specifically beneficial to people dealing with eating disorders.
Participants will be able to provide, skills, techniques, and resources to clients to help repair past damage done to clients by cultural messages about beauty, body size and health, and help clients develop skills to protect themselves, and their recovery journeys, in the present and future.
Speaker Bio:
Ragen Chastain is a speaker, writer, and thought leader in the fields of Body Image, Health at Every Size, Athletes at Every Size, and corporate wellness. She is the author of the blog DanceswithFat.org, the book Fat: The Owner's Manual, editor of the Praeger Anthology "The Politics of Size," and co-founder of the Fit Fatties Forum and Fat Activism Conference. Ragen is frequently featured as an expert in radio, television, and print, and the documentaries America the Beautiful 2 - The Thin Commandments, A Stage for Size, and the PBS Independent Lens short Ragen's More Cabaret. She is an ACE Certified Health Coach, three-time National champion dancer, and two-time marathoner who holds the Guinness World Record for Heaviest Woman to Complete a Marathon. She lives in Los Angeles and is training for her first (and only!) IRONMAN triathlon.
Men and Eating Disorders: Demystifying Working with Male Clients with Aaron Flores, RDN & Chase Bannister MDiv, MSW, LCSW, CEDS
June 20th, 2018: 9:30 AM PST / 12:30 PM EST
Webinar Description
Much of the mainstream training and dialogue around eating disorders is centered around working with female clients. EDRDpro is excited to offer this conversation with Aaron and Chase, with audience interaction encouraged. During this hour we will aim to demystify how to work with male clients suffering from disordered eating and body image concerns. Other topics to be addressed include:
How to communicate and connect with men who are not emotionally attuned or may be resistant to talking about body image and the feelings associated
Creating safe spaces for men to talk about their issues
Therapeutic activities that speak to men and their needs
Please join us for this live video meeting and come prepared to ask questions and engage with the speakers!
Reclaiming Victory: Guiding an Athlete from an Eating Disorder to a New Relationship with Their Sport and Body
Webinar Description:
The athlete's identity is often intimately intertwined with his/her sport.  Losing the ability to participate in one's sport – even temporarily – can be a life-altering experience for the athlete suffering with an eating disorder. However, it is possible to take back one's sport from the eating disorder. Attendees will learn how to guide the athlete back to healthful sports participation, and be able to identify the red, yellow, and green flags for returning to sport.
Learning Objectives:
Attendees will be able to identify 3-5 criteria that flag an athlete for full sport participation, partial participation, or no participation in sport.
Attendees will be able to discuss medical risk factors associated with athletes suffering with eating disorders.
Attendees will be able to lead an athlete through a step-by-step process towards healthful, recovery-oriented participation in sport.
Speaker Bio:
Lauren Anton, MS, RD, CEDRD-S, CPT is a Registered Dietitian Nutritionist and Certified Personal Trainer in private practice in Los Angeles, CA. She is a Certified Eating Disorder Registered Dietitian and Approved Supervisor through iaedp. Lauren specializes in eating disorders, sports nutrition, and helping those who struggle with their weight and seeks to assist clients in moving away from a punitive experience with food and movement to one of self-compassion and self-care. Her non-diet, weight-inclusive, Health at Every Size® approach allows clients to shed the rules and regulations that bind them to behaviors that no longer serve them.  As an expert in eating disorders and nutrition therapy, Lauren has worked at most levels of eating disorder treatment (residential through IOP) and has spoken at numerous national  and regional conferences and events on adolescents, eating disorders, and sports nutrition. She has also presented her own research at two conferences examining the effects of intuitive eating – based nutrition education on adolescent female cross country runners.  She has been quoted in publications such as The Washington Post, BuzzFeed, and the Huffington Post. Lauren served as a co-chair on the Academy of Eating Disorders Weight Stigma and Social Justice Special Interest Group from 2015-2018 and on the iaedp-Los Angeles board from 2010-2014.  Lauren is passionate about normalizing and enhancing the eating experience and encourages each of her clients to "taste their food with all their senses" in her Mindful Eating experientials.
Orthorexia: Treatment Strategies and Best Practices
Webinar Description:
Join us as we learn from Emily about the latest in treatment practices for clients with Orthorexia.
Learning Objectives:
Participants will be able to identify treatment strategies for Orthorexia and apply them to their patients and practice setting.
Participants will be able to differentiate between helpful and unhelpful treatment practices for Orthorexia.
Participants will be able to recognize the hurdles for Orthorexia recovery and help their patients navigate them effectively.
Participants will be able to provide their patients with skills, tools and techniques for overcoming Orthorexia.
Description:
Awareness of Orthorexia is on the rise, but without formal diagnostic criteria, it can be difficult to diagnose and treat. Because it's a new type of disordered eating with little research, clinical treatment is typically a combination of strategies, taken from other eating pathologies.  In this webinar we will explore best practices for treatment, understand interventions that could be harmful and recognize hurdles their patients may encounter.
Speaker Bio:
Emily Fonnesbeck is a Registered Dietitian who owns her own private practice located in southern Utah.  She specializes in treating disordered eating, eating disorders, body image concerns and digestive issues.  She enjoys writing on these topics for multiple news outlets as well as on her own blog, which can be found at emilyfonnesbeck.com.
As a member you have on-demand viewing access to our entire webinar library!
July 2017 : The Dangers of Dieting: The Research Review You Need to Know: 
The documented health risks of dieting and diet culture including the psychological and sociological impacts from weight stigma
Problems faced by chronic dieters
The Diet Double Standard
Health at Every Size and Non-Diet approaches, models and research
Answering questions about HAES and weight loss
Speaker bio: Glenys Oyston is one of the most recognizable names online for non-diet expertise. She is a registered dietitian and eating coach based in Los Angeles who helps people recover from toxic diet culture and eating anxiety. You probably know Glenys from her active online presence, writer at www.daretonotdiet.com and co-producer of the podcast Dietitians Unplugged.
As someone who struggled with her weight and feeling out-of-control around food for years, she knows exactly what others are going through and how to get them to food freedom. She coaches people in person in her Los Angeles office and virtually through one-on-one and group coaching programs. This year she launched Dare to Eat, an online program that helps people to learn to eat as much as they want, without guilt, in total freedom.
August 2017, 12:00 PM EST :On Being a Human and a Clinician: Honest and Ethical Management of Your own Body Image Concerns
 Speaker bio: Anna Peabody Sweeney, MS, RDN, LD, CEDRD | @DietitianAnna | WholeLifeRD.com   Anna is a Certified Eating Disorder Registered Dietitian, and a non-diet, Health at Every Size practitioner. She is an expert in providing care for individuals struggling with eating disorders, disordered eating and body image concerns. Over the last decade, she has served in a supervisory role at multiple eating disorder treatment centers and currently holds the position of Director of Nutrition Services for Monte Nido.  Anna is also the owner of Whole Life Nutrition Counseling in Concord, MA, where she works exclusively with clients with eating disorders, disordered eating or an interest in Intuitive Eating. Anna is passionate about nutrition, balance and whole body/mind healing.
September 2017, 12:00 PM PST | 3pm EST:  Eating Disorders during Pregnancy and Postpartum: 5-7% of women suffer from and eating disorder during pregnancy with reports of subclinical disordered eating being as high as 27%. Research shows that the risk for disordered eating and eating disorder relapse increase during the postpartum period. In one study, 93.3% of pregnant women with psychological and behavioral traits associated with eating disorders were not identified by their medical providers. This talk will discuss incidence and risk factors of disordered eating during the perinatal period and the role of the ED RD in screening and treatment
 Speaker bio: Lindsay Stenovec , MS, RDN, CEDRD | Owner at Nutrition Instincts and founder of The Nurtured Mama| @RealisticRD |Lindsay is an expert in the field of nutrition for women, mothers, and families. She owns a private practice in San Diego, CA, called Nutrition Instincts®, where she and her associate dietitian provide nutrition counseling in the areas of eating disorders, intuitive eating, prenatal and postpartum wellness and family feeding coaching. Health at Every Size® is integrated into every area of her and her team's work. In 2015, she founded The Nurtured Mama®, a body positive wellness community for moms and moms-to-be that cultivates body confidence, self-care and a healthy relationship with food, one mama at a time. Lindsay is also an adjunct faculty professor for a local San Diego community college, on the Wellness Advisory Panel for a children's food company and speaks regularly to professionals and parents on the topics of eating disorders, child feeding, maternal self-care, pregnancy and eating disorders and postpartum wellness. Her previous roles that continue to inform her current work include nutrition counseling for gestational diabetes, consulting for Head Start and being the lead dietitian for a PHP and IOP adult and adolescent eating disorder program. Lindsay lives in San Diego with her husband and 2-year old son.
October 3rd 2017 - 11 am PST: Initial Assessment: 5 Keys to a Stellar First Appointment
First impressions aren't everything but they do mean an awful lot! In this information packed session, Marci will outline her top 5 keys to prepare you for a strong initial assessment: organizing your paperwork, setting the stage for a great relationship, key questions and how to ask them, establishing a treatment plan, and setting up the next appointment. Marci will share with you the handouts, techniques, and language she uses in her own practice to help you grow your own style and confidence as a nutrition counselor.
Speaker bio: Marci Evans, RDN, CEDRD-S is a self-proclaimed Food and Body Imager Healer. She has dedicated her career to counseling, supervising, and teaching in the field of eating disorders. She is a Certified Eating Disorder Registered Dietitian and Supervisor, certified Intuitive Eating Counselor and Certified ACSM personal trainer. In addition to her group private practice and three adjunct teaching positions, Marci launched an online eating disorders training for dietitians in 2015 and is co-developing a specialized eating disorder internship at Simmons College. She volunteers for a number of national eating disorder organizations including the iaedp certification committee and is serving as BHN's eating disorder resource professional.  She has spoken locally and nationally at numerous conferences and media outlets. She loves social media so tweet her @marciRD follow her on Facebook, and check out her blog at www.marciRD.com.
November 6th 4pm PST/7pm EST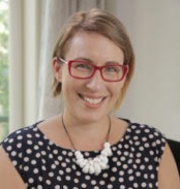 What do iPhones and HAES have in common? The art and science of disseminating weight neutral practices
Presented by Fiona Willer, AvdAPD
Webinar Description
Weight neutral practice approaches which centre size acceptance, like Health at Every Size and the Non-Diet Approach, represent a key innovation in health practice given the ubiquitous backdrop of 'anti-obesity' sentiment in the provision of healthcare today.  The adoption of these approaches so far has been driven by peer-to-peer communication as few professional authorities have yet to openly endorse or encourage weight neutral practice.
The bottom-up nature of this practice adoption has ensured it behaves exactly as predicted by the Theory of Diffusion of Innovations, a foundational social science model which predicts and explains of the spread of innovations via social networks.  This webinar will demonstrate to an audience of health professionals how they can identify in their peers and colleagues the factors which will most compellingly influence their practice preferences, overcome common stumbling blocks, and move them towards a deeper understanding of weight neutral practice approaches.
Speaker Bio
Fiona is an Advanced Accredited Practicing Dietitian and long-term pracademic, combining PhD research, academic teaching in nutrition and dietetics and providing professional development workshops and training for health professionals through her business, Health, Not Diets.  Her academic research areas are dietetic private practice benchmarking, inter-professional learning and the integration of weight neutral lifestyle approaches (including Health at Every Size® and the Non-Diet Approach) into the practice of health professionals, particularly dietitians.
Fiona has close to a decade of experience in academia across multiple universities, has authored two Non-Diet Approach guidebooks for health professionals and developed materials for the private and public sector.  In 2016 she developed the Non-Diet Approach Model, which operationalizes the Health at Every Size® principles for clinical practice.  Fiona currently serves as Vice President International for the Association for Size Diversity and Health, is past-President and current Secretary of HAES Australia Inc and founder of the Society for Australian Independent Dietitian-Nutritionists (AIDNSoc).
Fiona has great enthusiasm for both demolishing weight biased research and overusing food and eating metaphors in everyday life. Email: Fiona@healthnotdiets.com, Twitter: @FionaWiller, Facebook: Health Not Diets
November 28th 9am PST/12pm EST
Integration of Exposure and Response Prevention with Dietary Application in the treatment of eating disorders
Presented by Julia Cassidy, MS, RDN, CEDRD-S
Director of Dietary for the Adolescent Eating Disorder and Resilience RTC
Licensed Body Positive Facilitator
Center For Discovery
January 16th 2018 - 5:00 pm PST / 8:00 pm EST
Amenorrhea and infertility - A novel patient centered treatment approach
Presented by Dr. Nicola Rinaldi, author of the book No Period. Now What?
Webinar Description
Even after someone has recovered from an eating disorder, they are often surprised to find there is still work to be done. A symptom that highlights the need for more effort to attain true recovery is the absence of a monthly period (a bleed from birth control doesn't count). Often the desire to restore periods comes when a woman wants to get pregnant, although there are other excellent reasons to continue to work on body image, food fears, and exercise addiction. Our approach centers on understanding where a patient has come from, what her (his) lifestyle is like today, and working on a plan together to ensure adequate food intake and temporary high intensity exercise reduction (along with the much more difficult work on food fears, body dysmorphia, fat phobia, and self-esteem) in order to restore periods and fertility for the short and long term.
Speaker Bio
Dr. Nicola Rinaldi has a PhD in biology from MIT. Since experiencing hypothalamic amenorrhea (missing periods) herself, Dr. Rinaldi has been on a mission to spread awareness of the condition and how to recover. In 2016 she published the book "No Period. Now What?" This book is a comprehensive resource that includes much of the medical and scientific research that underlies our current understanding of the triggers for amenorrhea, what steps to take for recovery, and treatments to use for recovery and pregnancy as needed.
In addition, Dr. Rinaldi performed the largest survey to date of women who likewise experienced amenorrhea, and includes results from the survey answering many of the common questions women have, such as "How long will it take to recover?" "Will I be able to get pregnant?" and "Will I resume cycling after pregnancy?". Finally, the book includes Dr. Rinaldi's own story along with those of hundreds of other women, providing hope and reassurance to women following in their footsteps. Since publishing "No Period. Now What?" Dr.
Rinaldi has been a guest on multiple podcasts, attended the ACSM and SCAN conferences, and presented the winning poster at the 2017 Female Athlete Conference.
February 24th, 2018 - 9:00 am PST / 12:00 pm EST
Guiding Your Client from Chaotic to Peaceful Eater: Strategies for Intuitive Eating Counselors
Presented by: Vania Phitidis, Intuitive Eating counselor
Webinar Description
Vania is an experienced Intuitive Eating counselor and has been practicing and helping clients for over 25 years! She is also a popular blogger - check out her work at PeacefulEating.co.uk.
From this presentation participants will be able to:
1. Identify at least 1 mindfulness practice as a tool to use in session with clients
2. Identify at least 2 ways to create space in session that promotes healing toward peaceful eating
3. Identify the most common underlying reasons for disordered eating
4. Know how to conduct a visualization practice for a person who is struggling with disordered eating and why this can evoke healing
Speaker Bio:
Vania Phitidis is on a mission to help women free themselves from the clutches of the insidious cultural mindset that they must be thin in order to be valued, powerful, in a relationship, successful or loved. With a BA in Psychology and an Msc in Education for Sustainability with a focus on behavior changes, Vania is self-employed as an Intuitive Eating Counselor. Additionally, she is a certified MB-EAT (Mindfulness-Based Eating Awareness Training) teacher and a qualified Self Esteem mentor with the More to Life Programme. Over the 25 years she has been involved with More to Life, Vania has had the privilege of coaching hundreds of people to become more of their authentic selves. She is also a member of ASDAH (Association for Size Diversity And Health), TCME (The Center for Mindful Eating) and have a Health At Every Size (HAES), weight inclusive and weight neutral approach to her work. She works with clients to help them make peace with their bodies, with themselves, and with food. As she dispels the myth that to be healthy one must be thin, or of 'normal' weight and that beauty and thinness are important or relevant. On top of all of the above, Vania frequently publishes blogs about Intuitive Eating and making peace with food and body on her blog, Peaceful Eating.
March 13th, 2018 - 4:00 pm PST / 7:00 pm EST
March Member's Round Table: Monthly peer / professional supervision video chat with a guest expert
Featuring Fiona Sutherland, APD and founder of The Mindful Dietitian
Round Table Description
All members are welcome to call in and join this monthly video chat. We discuss cases and questions submitted by members each month! 
Speaker Bio:
Creator of The Mindful Dietitian, Fiona Sutherland is one of the most well known dietitians in Australia specializing in eating disorders. For over 12 years she has practiced with a focus on eating disorders and moved from a role as treatment provider to offering education, training and prevention to the nutrition community. She is co-founder of Body Positive Australia and lecturer in Dietetics at Deakin University in Melbourne. Additionally, Fiona manages the nutrition services at the Australian Ballet School and the nutrition program at Racing Victoria.
March 27th, 2018 - 11:00 am PST / 2:00 pm EST
Eating Clean in a Dirty, Dirty World: Updates from The International Orthorexia Task Force
Presented by: Jessica Setnick, MS, RD, CEDRD
Webinar Description
Dietitians often encounter individuals seeking health through "clean" or "pure" food and eating. When mixed with a tendency toward perfectionism or anxiety, or when implemented with unrealistic expectations for body shape changes, this desire can morph into fear of food and restrictive eating practices that detract from health and impair functioning.
Dr. Steven Bratman coined the term "orthorexia nervosa" in the 1990's to describe this situation, which he called "an unhealthy obsession with healthy eating." Increasing reports of orthorexia worldwide and recent media attention have led to the formation of an International Orthorexia Nervosa Task Force (ON-TF), a movement to include orthorexia as an official eating disorder diagnosis. Goals include proposing diagnostic criteria for inclusion in the Diagnostic and Statistical Manual of Mental Disorders, increased awareness of orthorexia as a separate condition from anorexia nervosa, and coordinated efforts to determine appropriate treatment interventions.   
 In this Orthorexia Update, eating disorder specialist Jessica Setnick will provide us with the latest information from the ON-TF meeting in Rome and share treatment strategies in use around the world.
Speaker Bio:
Jessica Setnick has one of the most recognizable names in the eating disorders treatment world, thanks to her engaging and charismatic presentation style, her unique point of view, and her genuine ability to connect on a deep level, even from the podium. She has spent her career developing eating disorder treatment protocols in every level of care and shares her wealth of knowledge with health professionals and the public in every possible format, including the Eating Disorders Boot Camp: Training Workshop for Professionals audio course, The Eating Disorders Clinical Pocket Guide, The Academy of Nutrition and Dietetics Pocket Guide to Eating Disorders, as Eating Disorder Editor at Recovery Campus Magazine, in the forthcoming book Managing Eating Disorders on Campus, as a CEDRD Supervisor and mentor to treating professionals around the world, and in her many, many, many presentations. Jessica's mission is to work toward a world where everyone who needs care for eating issues has access to qualified professionals, and no one is turned away due to insurance issues or mistaken stereotypes.
April 10th, 2018 - 12:00 pm PST / 3:00 pm EST
Interpretation is Everything: Advocating for Protective Nutrition Messaging for Children
Presented by: Katherine Zavodni, MPH, RD, CD and Anna Lutz, MPH, RD/LD, CEDRD
Webinar Description
The current generation of children are inundated with weight-biased, age inappropriate nutrition messages. As eating disorder savvy professionals and informed parents, we can advocate for children to be shielded from these harmful messages. We will look at the research showing how children interpret nutrition information and what is appropriate nutrition education for different ages. We will provide resources, strategies and tools to empower attendees to advocate for children with other healthcare providers and school personnel.
The Weight of our Words: Developing a Vocabulary for Eating Disorder Best Practices
April 28th, 2018 - 9:00 am PST / 12:00 pm EST
Presented by: Debra L. Benfield, M. Ed., RDN, LDN, RYT
Webinar Description
This Webinar will invite you to:
become more aware of your vocabulary and habitual patterns
develop new insight into word choice which best serves you and your clients
practice a language which invites client-focused curiosity, discovery and change
Speaker Bio:
With more than 30 years of clinical experience, Debra is committed to providing nutritional therapy in a compassionate, supportive, and caring manner. She uses a coaching style informed by somatic/sensory awareness practices along with evidence-based nutrition science.  Her goal is to help you meet the needs of your unique body in order to support your best whole-person health and peak performance.
Previous Clinical Experience:
Debra provided medical nutrition therapy at Wake Forest University School of Medicine for many years and was a faculty member of the School of Medicine for 10 of those years. She was also in private practice part-time during those years with a transition to full time private practice in 2005. Her clinical experience also includes being the lead RDN at North Caroline School of the Arts, chief clinical dietitian at Alamance Medical Center, nutritionist in Surry County's public health clinic, clinical research dietitian for Wake Forest University School of Medicine and a nutritional therapist in both an addiction treatment center and a behavioral health center.  Additional training includes completing her Yoga Teacher Training in 2012 and Presence-Based Coaching Training in 2016.  She is  also currently a member of the eating disorder treatment team for Wake Forest University