Dana Monsees, MS, CNS, LDN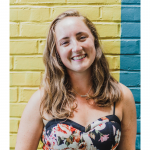 Dana is a Dietitian-Nutritionist (MS, CNS, LDN) and Body Image Coach who practices from a HAES, non-diet approach. Her philosophy combines neutral nutrition with weight-inclusive care and the principles of integrative health, to help women heal their relationship with food and their bodies as a root cause of chronic health conditions. Dana hosts the Whole-Hearted Eating podcast and has been running her recipe + nutrition blog since 2014.
Interested in learning more about how we can work together to get out of the diet cycle, heal your symptoms, and relationship with food and your body for good? Click here to schedule a free 15-minute discovery session.