Meghan Cichy, RDN, CD – Food and Body Counseling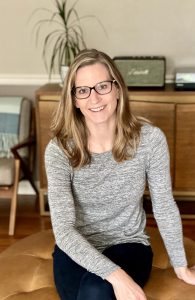 Meghan (she/her) is a Registered Dietitian by training. She specializes in working with folks with eating disorders, disordered eating, and those looking to shift their relationship with food and their body to one that has more room for connection and trust.
Meghan is a Certified Eating Disorders Registered Dietitian (CEDRD) and a Body Trust® Provider in training. She approaches her work through a weight inclusive, anti-oppressive, and trauma informed lens by providing collaborative and compassionate care. She works to center the experiences and wisdom of her clients and fosters an environment of trust, curiosity, and exploration.
Meghan believes that while food can have an impact on our mental and physical well-being, its power has limitations. Because of this, Meghan takes into account the bigger picture of social determinants of health and a client's lived experience in every counseling session.<
Meghan holds multiple layers of privilege, including body privilege, that have impacted not just her own relationship with food but also her ability to provide this kind of care as a professional dietitian. She recognizes the ways in which her privileges increase her risk of doing harm in the world and in her healthcare relationships. Because of this she works hard to combat her internalized biases and shine a light on her blind spots while acknowledging and striving to repair harm when it happens.
Meghan enjoys spending time with her partner and two young kids while getting outdoors. She is an avid book collector who is still searching for that 25th hour in the day to get some reading done. Meghan enjoys cooking and being cooked for and tasting new and exciting foods. She identifies as an extrovert turned introvert who thrives off of nourishing connections and peaceful solitude (With two kids? Yeah right!).
Main Location
6642 South 193rd Place, Kent, WA, USA