Samantha Christy, MS, RDN, LD, EP-C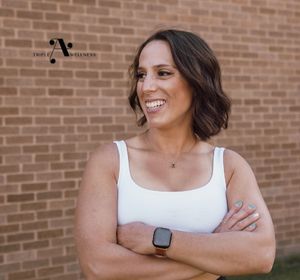 Samantha Christy, Registered Dietitian and Exercise Physiologist.  Founder of Triple A Wellness, which is a company focused on empowering people to live their best life through positive relationships with food and their body.  Triple A Wellness is all about providing inclusive, non-diet counseling to Anyone with Any Body, Anywhere.
Sam has a Masters's Degree from Colorado State University, and a BS in Kinesiology from Penn State, and has worked in the fitness industry for almost 10 years.  Sam bridges the gap between fitness and nutrition as an experienced group fitness coach, and personal trainer.  Sam understands both diet culture, toxic, fitness culture, and how it affects our relationship with both food and our body.  Sam currently offers both one-on-one counseling to provide lifestyle and behavior changes to help them live their best life through proper nutrition and a healthy relationship with their body.  Sam also offers a 10-week group program called the Intuitive Strength Academy that focuses on nutrition, intuitive eating, body neutrality, joyful movement, and body image.
Sam is also qualified to provide nutritional advice, guidance, and meal plans as she is also a Registered Dietitian. During graduate school,  Sam studied in-depth intuitive eating, behavior theories, nutrition for athletes, nutrition counseling, and eating disorders.  Sam aligns herself with health at every size, intuitive eating, and providing inclusive support to all.
Main Location
26515 Amhearst Circle, Beachwood, OH 44122, USA