Courtney Plush, MS, RDN, LDN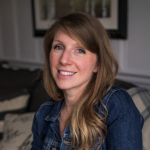 I work with people who are ready to leave behind disordered eating, restrictive dieting, and rigid food rules and start on the path toward a healthier and happier relationship with food and their bodies.
I provide individualized, trauma-informed care aligned with the principles of Health at Every Size® and intuitive eating. In addition to providing science-based nutrition education, I draw from a variety of counseling techniques and therapies to guide clients in making lasting and joyful changes to their eating, movement, and the ways they relate to and care for their bodies.
This work is a collaboration that will honor the unique experiences my clients bring to the table, combining insight and action to help build confidence around food, eating, and body image.