Charlotte Thomas, LCSW
Master's Degree in Social Science Administration (MSSA)
Video Topic: Eating Disorder Therapy – What You Need to Know
Presented by Lauren Muhlheim,  Psy.D., FAED, CEDS and Charlotte Thomas, LCSW : Gather some important tools to help you understand what to look for in a competent eating disorder therapist. Learn what therapies are best to use in eating disorder recovery. These two expert eating disorder therapists will talk honestly about finding good therapy and knowing what to expect from it and then what to do if you do not see progress. The tools they pass on to you will help you be an advocate for your loved one, when they can't do it for themselves.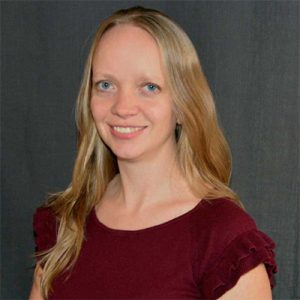 Charlotte received her master's degree in Social Science Administration (MSSA) at Case Western Reserve University in Cleveland, OH and trained with Lucene Wisniewski PhD, FAED and Mark Warren MD, FAED for the following 4 years in the evidence-based treatment of eating disorders. She is a licensed clinical social worker in the state of Oregon with professional interests in treating eating disorders and associated issues including borderline personality disorder, depression and anxiety and has provided services to individuals, teens, adults, families, and groups. At Portland DBT Institute, Charlotte is the Program Manager for the Pathways to Mindful Eating (PME) program and provides direct service to clients, supervision to staff, and serves on the management board for the clinic helping to inform general clinic policy. Her unique oversight of the PME program has resulted in the creation of an Intensive Outpatient Program for eating disorders and cross clinic integration of competencies related to treating complex clients presenting with eating disorder behaviors. In addition, Charlotte trains clinics and individuals nationally on DBT, program development, eating disorders, and evidence-based practice.
HELPING HANDS SUMMIT EBOOK
Purchase this video series and receive The Helping Hands E-book: full of over 30 pages of checklists, tools and resources.
Video Series
Helping Hands